2018 - 2022 National Program
Exemplifying Excellence Through Sustainable Service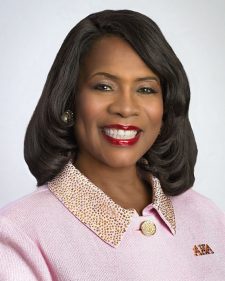 Alpha Kappa Alpha International President Dr. Glenda Baskin Glover
Target I: HBCU 4 Life: A Call to Action
Chapters will promote and market Historically Black Colleges and Universities and encourage students to attend HBCUs as a sustainability measure. Activities will include researching and publishing information regarding prominent Alpha Kappa Alpha women and other notable individuals who attended HBCUs.
Target II: Womens Healthcare and Wellness
Alpha Kappa Alpha will continue to raise community awareness of critical health issues impacting African American women. The primary focuses will be breast cancer awareness and prevention, heart health, nutrition and wellness, and care for the caregivers.
Target III: Building Your Economic Legacy
Alpha Kappa Alpha will emphasize financial planning, asset accumulation, and wealth building including savings and investment, managing debt, and improving credit.
Target IV: The Arts!
Alpha Kappa Alpha will expose students to arts enrichment and culture by focusing on visual and performing arts and by showcasing talent through the exploration of writers, entertainers and various other artists.
Salute to the Harlem Renaissance will be launched to celebrate the contributions of African American artists during the Harlem Renaissance through student research and chapter sponsorship of student talent showcases. This initiative will be correlated with HBCUs and African American culture and will include colleges with art collections.
The Salute to the Black Arts Movement will be unveiled and will focus on student research and celebration of African American artists during the Black Arts Movement. Chapters will champion activities that express the movement's message and highlight members of Alpha Kappa Alpha Sorority who served as leaders and participants. Activities will include art events, poetry slams, dancing, painting and performing arts.
Target V: Global Impact
Alpha Kappa Alpha will engage in programming designed to enhance the international footprint of the sorority.
National Global Impact Day. Chapters will engage in a community service project that has an international impact and will partner with organizations that make a difference worldwide.
Global Assistance Activities. Chapters will engage in global partnerships that provide assistance to the underserved in international areas populated with people of color. These partnerships include the following:
Soles 4 Souls.

Chapters will collect gently-worn shoes and transport the shoes to specified locations. Soles 4 Souls, a non-profit organization, will process and ship the shoes to destinations around the world that are populated with people of color.

Lions Club International

. Chapters will participate in an eyeglass initiative designed to prevent blindness, help restore eyesight, and improve eye health and eye care for millions of people around the world by donating used eyeglasses in partnership with local Lions Clubs.

Pillowcase Project.

Chapters will continue to use pillowcases to make dresses for little girls and will expand the sorority's efforts to include shirts for little boys. The pillowcase dresses and shirts will be sent to Haiti to provide clothing for children in need.
Refugees in America Assistance Program (RAAP). Chapters will focus on refugees of color in the United States by partnering with organizations engaged in support activities that assist refugees and their families to integrate into American life. This includes literacy classes, educational training, and other necessary transitional support.
Community Impact Days
Alpha Kappa Alpha members will implement International Community Service Days annually to highlight the organization's collective impact in program target areas:
Alpha Kappa Alpha Sorority, Inc, Founders Day (January)
AKA Reactivation Day (January)
Dr. Martin Luther King, Jr. Day of Service (January)
Pink Goes Red for Heart Health Day (February)
AKA Global Impact Day (April)
AKA International Day of Prayer (August)
National HBCU Week (September)
AKA HBCU Day (September)
Breast Cancer Awareness Day (October)
AKA Caregivers' Day (November)
To learn more about Alpha Kappa Alpha Sorority programs, please visit our national website:
www.aka1908.com
.
---